Hugh Jackman Brought To Tears Remembering Mother Who Abandoned Him At Just 8 Years Old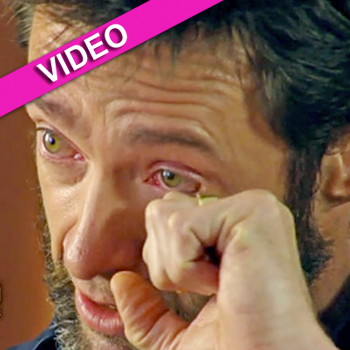 Actor Hugh Jackman broke down in tears during an emotional interview with 60 Minutes, talking about how his mother Grace abandoned him when he was just 8, and RadarOnline.com has video of his heartbreaking tale.
Jackman openly wept as he recounted how his mother up and left, relocating from Australia to England and leaving him, his father Chris, and four siblings to fend for themselves.
Article continues below advertisement
"I can remember the morning she left, it's weird the things you pick up," Jackman said, his eyes welling with tears. "I remember her being in a towel around her head and saying goodbye, must have been the way she said goodbye. As I went off to school, when I came back, there was no one there in the house.
"The next day there was a telegram from England, Mom was there. And then that was it. I don't think she thought for a second it would be forever. I think she thought it was, 'I just need to get away, and I'll come back.' Dad used to pray every night that Mom would come back."
The Les Miserables star called his father "my rock" and credited him with instilling traits such as "loyalty and dependability" that have served him well as both an A-list actor, and father to his two kids with wife Deborra-Lee Furness, Ava and Oscar.
He said his father continues to give him advice, but only about family, saying one of his dad's biggest regrets was spending too much time at work.
"He doesn't want me to make me that mistake," the X-Men hunk said. "In his gentle way, he always reminds me family is the most important thing."
Article continues below advertisement