Hugh Jackman's Wife On Gay Rumors: We Couldn't Care Less!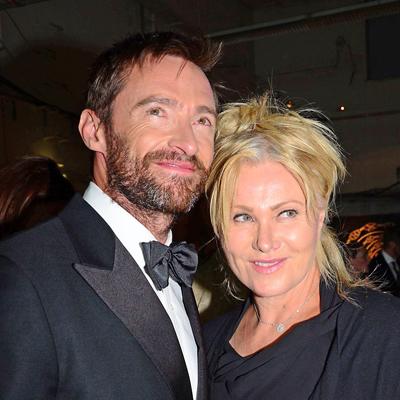 Actor Hugh Jackman's wife Deborra-Lee Furness has heard the rumors her A-list hubby is gay — but, she just doesn't care about them.
"The line I heard was, 'Wolverine? Who would have thought?'" Furness, 56, told the New York Post's Page Six Magazine. "Hugh and I don't pay much heed to the rumors."
Jackman's wife of 15 years said she can only shake her head at the voracious Hollywood rumor mill, calling it "kind of tragic that these people have nothing better to do than to gossip about people they don't know."
Article continues below advertisement
She also addressed the 13-year age difference between the couple and the criticism she receives for her weight, claiming: "Hugh is much more mature than me, so we balance each other out. And heaven forbid I have a human experience and carry a little weight."
Furness shares that she and Jackman met in Melbourne in 1991, where she was a well known actress at the time. She also shares that she took him home for dinner and after he did the dishes without being asked, her mother said, "marry him!"
PHOTOS: Hollywood's Hottest Dads!
The pair have two adopted children: daughter Ava, 6, and son Oscar, 11, and Furness opened up about why, after several miscarriages, they decided to go the adoption route.
"Hugh and I were always going to adopt. We were going to have one child, adopt another. When we didn't have one, we adopted two," she says. "I can't bear to think of a child not being cared for. I tell my own children it was their destiny to come to us."
MORE ON:
hollywood happenings
Article continues below advertisement
And when it comes to being married to "The Sexiest Man Alive," Furness takes it all in her stride!
"It's almost like another persona: the Movie Star. Mind you, I do think he's the sexiest man alive, and I'd hope every woman would think her husband was," she says. "I was always saying I'd marry somebody sensible, like a stockbroker. So he dresses up for that fantasy for me occasionally."
The three-time Tony Award winner, 43, is again the toast of Manhattan with his sold-out Hugh Jackman: Back on Broadway show; he returns to the silver screen in Butter, due out in March.