Hillary Clinton Hospitalized With Blood Clot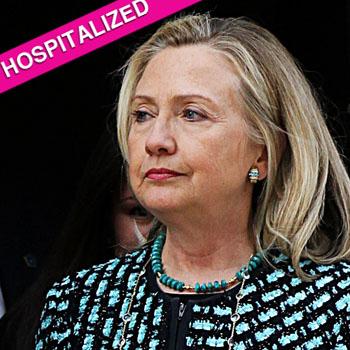 Secretary of State Hillary Rodham Clinton remains at New York-Presbyterian Hospital Monday, where she's being treated for a blood clot after suffering a concussion earlier this month.
Clinton's spokesman Philippe Reines said the 65-year-old politician would stay hospitalized for the next two days, after her physicians discovered the clot on Sunday.
"Her doctors will continue to assess her condition, including other issues associated with her concussion," Reines said in a statement. "They will determine if any further action is required.
Article continues below advertisement
The ex-first lady was diagnosed with the concussion December 13, after falling down at home while she was getting over a stomach virus.
Clinton canceled trips to North Africa and the Middle East -- as well as planned testimony before Congress about the September attack on the U.S. Consulate in Benghazi, Libya -- to recover from the series of ailments.
Clinton has visited a record-112 countries during her stint as Secretary of State.