Deadliest School Shootings In U.S. History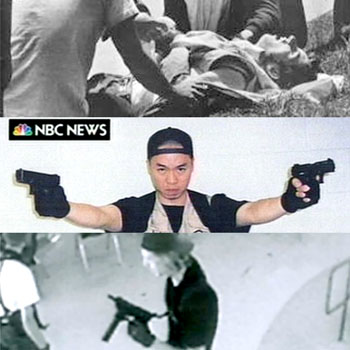 By Amber Goodhand - RadarOnline.com News Editor
The mass shooting and bombing by two disturbed students at Columbine High School in 1999 lead to increased security in the United States school system, but senseless shootings have been happening at schools since the 60s and continue to happen, and RadarOnline.com has a roundup of the horrific and tragic shootings throughout the years.
The December 14 shooting at Sandy Hook Elementary School in Newtown, Conn. has left nearly 30 people dead, 20 of which are children, making it the second-deadliest school shooting in U.S. history. Read below from the San Francisco Chronicle to find out which shooting was the deadliest.
Article continues below advertisement
On August 1, 1966, Charles Whitman, 25, killed his mother and wife before heading to the University of Texas with a rifle, where he shot and killed 14 people in a 96-minute span before he was shot and killed by police officers.
National Guard troops on the campus of Kent State University in Ohio shot and killed four unarmed students who were protesting the U.S. Invasion of Cambodia on May 4, 1970.
Edward Charles Allaway, 37, took a semi-automatic rifle that he bought at a Kmart to the campus of California State University Fullerton where he was a janitor and on July 12, 1976 he shot and killed seven people in the school's library. Allaway was found to be insane and instead of incarceration, he was committed to a mental institution.
A 16-year-old female named Brenda Ann Spencer shot a rifle at a San Diego elementary school on January 29, 1979 from her home across the street, killing a janitor, the principal and injuring eight students. Spencer said afterwards she shot at the school because, "I don't like Mondays." She was found guilty and sentenced to 25 years to life in prison.
On January 17, 1989 Patrick Edward Purdy, 24, opened fire with a semiautomatic rifle on a Stockton, Calif. schoolyard, killing five children and wounding 29 other students and one teacher before turning the gun on himself.
Article continues below advertisement
University of Iowa graduate Gang Lu, 27, was upset his doctoral dissertation was not nominated for an academic award so he used a .38-caliber revolver to kill four members of the department, another university staff member and himself on November 1, 1991.
Eric Houston, 20, killed three students and a teacher, injuring 10 others before giving himself up to authorities on May 1, 1992 at his alma mater Lindhurst High School in Olivehurst, Calif. with a 12-gauge shotgun and rifle. He remains on Death Row at San Quentin State Prison.
Two young boys, Andrew Golden, 8, and Mitchell Johnson, 10, took seven guns to their Jonesboro, Ark. school on March 24, 1998 and after pulling the fire alarms to evacuate the school, killed four students and one teacher, with nine others wounded. Seven years later they were released from a juvenile detention center.
Just two months later, on May 21, 1998, 15-year-old Kipland Kinkel shot and killed his parents after he was suspended from school for bringing a gun onto campus, and the next day returned to his Springfield, Ore. school where he injured 22 and killed two students. Kinkel is in prison serving 111 years without possibility of parole.
Article continues below advertisement
Dylan Klebold, 17, and Eric Harris, 18, killed 12 students on April 20, 1999 when they walked into Columbine High School in Colorado dressed in trench coats with homemade bombs and guns. They then killed themselves.
On October 28, 40-year-old Robert Flores shot and killed a nursing instructor in his nursing program at the University of Arizona before killing two more teachers in their classroom and then taking his own life.
A 17-year-old named Jeffrey Weise killed nine people, his grandfather and left five others wounded during a mass shooting at Red Lake High School in Minnesota on March 21, 2005, and then also took his own life.
An Amish schoolhouse in Nickel Pines, Penn. turned into the scene of a horrific shooting on October 2, 2006 when Charles Carl Roberts IV, 32, injured five girls critically and shot and killed five others execution-style before killing himself.
Article continues below advertisement
In what is the all-time deadliest school shooting in U.S. history, Virginia Tech University student Seung-Hui Cho, 23, shot up the campus on two separate attacks just hours apart on April 16, 2007, killing 32 people before turning the gun on himself. Cho had been diagnosed with a mental illness and the school was found responsible for not alerting campus residents and staff after his first shooting rampage.
Five years later, Ross Truett Ashley, 22, shot and killed a Virginia Tech campus police officer before fleeing, changing his clothes and then shooting and killing himself.
On February 27, 2012, 17-year-old T.J. Lane fired 10 shots at a group of students in the cafeteria at a high school in Chardon, Ohio. Three students were killed and Lane was arrested.
One L. Goh, 43, killed seven people at Oikos University in California near the Oakland International Airport and was arrested just an hour later.
Article continues below advertisement