Exclusive
No More Secrets & Lies! Full Story Behind The Timing Of Bethenny Frankel & Jason Hoppy's Breakup Announcement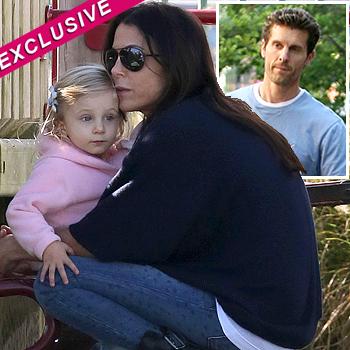 No one was really shocked by the announcement that Bethenny Frankel and Jason Hoppy were throwing in the towel on their two-and-a-half-year marriage, but the timing - one day before Christmas Eve, was a little surprising. However, RadarOnline.com has exclusive insight into why the couple felt they could not wait any longer to officially call it a day.
As previously reported, the reality star turned business mogul announced the news in a statement Sunday. "It brings me great sadness to say that Jason and I are separating," Frankel said. "This was an extremely difficult decision that as a woman and a mother, I have to accept as the best choice for our family.
Article continues below advertisement
"We have love and respect for one another and will continue to amicably co-parent our daughter who is and will always remain our first priority. This is an immensely painful and heartbreaking time for us."
As RadarOnline.com exclusively reported, the 40-year-old's therapist suggested Bethenny officially separate from Jason in the hope of ultimately salvaging their fractured relationship, and a source says once she had mentally made that decision, Frankel was unable to carry on the charade any longer.
"Bethenny and Jason have been over for some time now," the source tells RadarOnline.com. "For all intents and purposes they have been living separate lives since before Thanksgiving.
"Neither one wanted to pull the trigger though as neither Bethenny nor Jason was willing to make it official. They both love their daughter so much, and despite their many, many problems they still do ultimately love each other.
"However, once Bethenny had made her mind up that they were going to officially split she felt she had to make the announcement immediately. Jason wanted to wait till after the holidays were over but Bethenny insisted that she could not carry on the charade of pretending to be a happy couple any longer, especially not in front of their closest friends and family.
Article continues below advertisement
"Basically, in the end Bethenny decided, no more secrets and lies - let's get it out in the open, for better or for worse."
As previously reported, the couple has been fighting throughout the majority of 2012. Their marriage woes became a central part of their reality show, Bethenny Ever After.
Despite their obvious problems, Bethenny and Jason are committed to working out some common ground and building a friendship for the sake of their daughter, Bryn.
"Bethenny and Jason intend to spend Christmas together with Bryn," the source says. "They want her to know they both love her with all their heart and that she is the most important thing in their lives.
"And, I truly don't think it is over yet between Bethenny and Jason. There is so much emotion and passion there still, I would not be surprised to see them get back together for another try in the new year once they've had some breathing space and the dust has settled."