Mommy And Me! Bethenny Frankel Takes Seaside Stroll With Daughter Bryn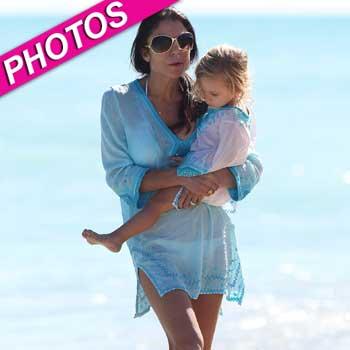 Skinny girl Bethenny Frankel hit the beach with her favorite accessory on Friday – her two-year-old daughter Bryn Hoppy.
The duo looked adorable in matching tunics as they strolled along the sand in Miami and RadarOnline.com has the photos to prove it. Shielding her face from the sun with a hat and a pair of shades, the ever stylish 42-year-old took her daughter for a dip in the sea.
It was clearly a fun winter break for the entrepreneur who wrote about jetting back to New York on her Twitter page. She told her followers how her toddler entertained the other passengers on the journey home.
Article continues below advertisement
Frankel wrote: "Bryn sang the whole abc sic song on the plane and the entire cabin clapped and cheered afterwards. Like a movie! Made me smile!"
Back at home the Mommy and me adventure continued. Frankel – who has been married to Bryn's father Jason Hoppy for close to three years – wrote on Saturday: "With my high school girlfriends & Bryn having the best girl time.
"In bed eating snacks & watching tv sic. No boys allowed!"