Bethenny Frankel & Jason Hoppy Put On A United Front As Divorce Rumors Continue To Grow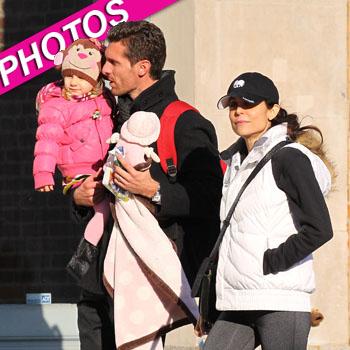 Article continues below advertisement
It's hard to tell who needed the cuddles the most – Bethenny or Bryn – as they snuggled on the sidewalk despite the chilly concrete, while a friend kept a strong hold on the toddler's pink tricycle.
Dressed in a formal business suit with his wedding ring firmly on his finger, Jason, 41, looked every bit the devoted hubby and family man as he walked along side his wife, who was clad in a ski jacket and hat to ward off the cold.
However, despite the smiles a bitter split may be looming as the couple continue to fight both on and off camera.
As RadarOnline.com recently reported, "It's pretty much over between Bethenny and Jason. They are already living separate lives," revealed a source.
Although the couple's marriage has been on the rocks for quite some time, the source says things went from bad to worse in recent months. "She purposely spent Thanksgiving without him, bringing Bryn to Miami. He wasn't happy about it, to say the least," said the insider.
Article continues below advertisement
Bethenny Frankel Shows Off Toned Bikini Body In Miami