Breaking Barriers In Hollywood! Film Starring People With And Without Disabilities Premiering Thursday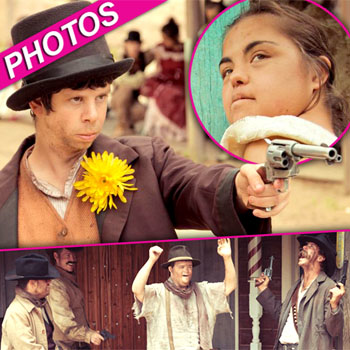 By Leah Ornstein - Radar Features Editor
Movies can make a difference!
Zeno Mountain Farm, a non-profit organization that runs annual camps for people with and without disabilities, is premiering their ninth original film on Thursday night in Los Angeles, Bulletproof, starring a beautiful and eccentric group of 35 friends who gather together once a year for two weeks to complete the tedious task of making a 30-minute film, and RadarOnline.com has the details.
Article continues below advertisement
Bulletproof is the story of Benny Jackson, played by Alec Bandler, and his quest to save his family business, Bulletproof Jackson's Saloon, which is in jeopardy of being turned into a casino unless Benny can unlock the mystery of his famous great-great-grandfather, the gunslinger, Bulletproof Jackson, played by the dynamic Jeremy Vest. Benny finds Bulletproof's journal, which holds many clues that lead him on an adventure to save his family's legacy for good.
The film, which premieres Thursday night at The Vista Theatre in Los Angeles at 7:30 p.m., was financed with the money raised from last year's film premiere fundraiser for Finding Zac Efron, which featured celebrity cameos by David Arquette, Ted Danson and Joe Manganiello.
Zeno Mountain Farm, whose goal is to support friendships between people with and without disabilities, is spearheaded by Will, Vanessa, Peter and Ila Halby, hosts several camps throughout the year all over the world and is funded by individual donations. No one pays to attend and no one is paid to be there.
For more information on attending the event or to make a tax-deductible donation to Zeno Mountain Farm, click here.