Teenage Girl In Afghanistan Brutally Beheaded For Marriage Proposal Refusal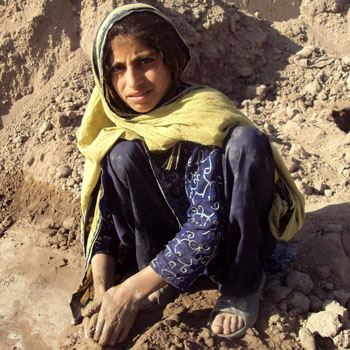 By Jon Boon - RadarOnline.com Reporter
A teenager in Afghanistan was brutally beheaded by her own cousin after her family turned down his marriage proposal, RadarOnline.com is reporting.
Gisa, believed to be around 15 years old, was decapitated by knife in the Imam Sahib district of Kunduz on Tuesday, according to local police.
Two men named, Sadeq and Massoud, have been arrested in conjunction with the murder, a spokesperson for the authorities confirmed. They are believed to be relatives of the teenage girl and live in the same village.
Article continues below advertisement
The victim's father told a local news agency that he refused a request to marry his daughter because he believed she was too young.
Gisa was attacked as she returned home to Kulkul village where she was collecting water from a nearby well.
While Afghanistan's Taliban regime were forced out in 2001, they are making a strong resurgence and oppression against women is still fierce.
There have been a spate of horrifying acts of violence against women in the region this year - back in July, a father shot dead his two teenage daughters in the Nad Ali district of Helmand when they returned home four days after running away with a man.
In the same month, a 22-year-old Afghan woman was gunned down in the Parwan province as a crowd of onlookers bayed for her blood. The woman, known only as Najiba, was executed by a member of a Taliban militant group following accusations she'd had an affair with a Taliban commander.
And in another horrific murder, a man beheaded his ex-wife in front of their two children in the Ghazni provence. He then killed both is 8-year-old son and 9-year-old daughter simply because they had seen him murder their mother, police said.
Article continues below advertisement
In 2009, an Elimination of Violence Against Women law was passed that was supposed to criminalize child marriage, forced marriage and "giving away" a girl or woman to settle a dispute. But Afghan women are still at risk today.
The UN recently revealed there is a "long way to go" before women in Afghanistan are anywhere near safe and protected.
RELATED STORIES:
Newlywed Nurse's Murder Allegedly Ordered By Cult Prayer Group Leader Husband