Shocking Body Transformations! 11 Stars Who Have Dangerously Lost & Gained Weight For Movies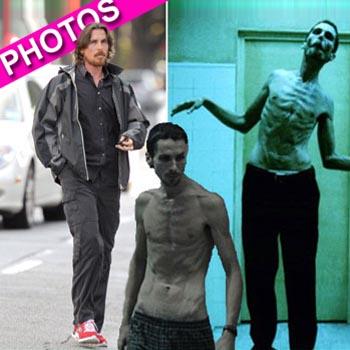 Matthew McConaughey and Anne Hathaway aren't the only Hollywood stars who have been more than willingly to drastically and dangerously transform their bodies for movie roles.
Whether packing on the pounds or starving themselves until they look emaciated, several celebrities have sacrificed their fabulous physique to get into character for a film, and it has paid off for most of them in the form of various awards. RadarOnline.com has photos of 11 stars who have dangerously dropped pounds, gained weight and buffed up for movie roles.
Article continues below advertisement
After "living on kale and dust" to squeeze into her Catwoman suit for The Dark Knight Rises, Hathaway took on another role she had to diet for! The sexy star dropped an additional 25 pounds to play a prostitute in Les Miserables -- even starving herself for two weeks by eating only two thin squares of dried oatmeal paste a day.
The usually svelte Hilary Swank bulked up for Million Dollar Baby, while George Clooney went from hunk-to-chunk for Syriana, both winning Oscars for their performances.
Losing resulting in winning for Natalie Portman and Christian Bale! While Portman got scary skinny to play a ballerina in The Black Swan, scoring her first Best Actress Academy Award, Bale brought home the Best Supporting Actor trophy, looking unrecognizable as a drug addict in The Fighter.
What other stars have dangerously transformed their bodies for movie roles? Find out by clicking here.