Robin Roberts Cries Talking About Late Mother & Her New Lease On Life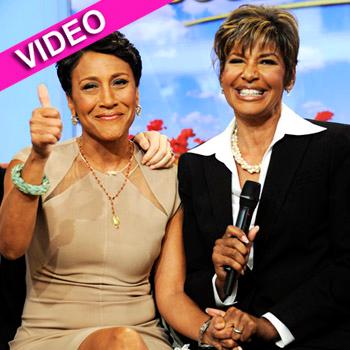 Robin Roberts shared an emotional one-on-one chat with her sister/bone marrow donor Sally-Ann on Tuesday's edition of Good Morning America, and we've got the highlights for you right here on RadarOnline.com.
Robin has been battling the blood and bone marrow disorder MDS (Myelodysplastic Syndrome), leading to her September 20 transplant, which she says she looks as "as a clean slate.
"How many people can say at this point in their lives that they get a do-over, that they get a chance to start again?" Robin said. "And that's how I feel. We're all a little bit stronger -- a little bit stronger than we think we are. And that's all we need."
Article continues below advertisement
In the interview, Robin got weepy-eyed when her sister brought up their late mother Lucimarian, who died August 30 -- just before Robin was about to take a medical leave from GMA. She left the show early to spent her mother's final days by her side.
"I do believe it was her way of making sure that all of her children could be taken care of," ateary-eyed Robin said. "This is the first time that I have been through any traumatic experience without her being here and that has weighed on me.
"She was there when I took my first breath and what an honor it was to be there when she took her last."
Robin, who turns 52 Friday, said she's excited to get to go to early bird specials, where the presence of less people means less risk of running into hazardous germs, per her doctor.
Watch the video on RadarOnline.com
"I'm going to get to go out and be around people!" she said, noting the massive outpouring of support she's received since she got sick.
MORE ON:
Good Morning America
Article continues below advertisement