Radar Online Wins Five National Entertainment Journalism Awards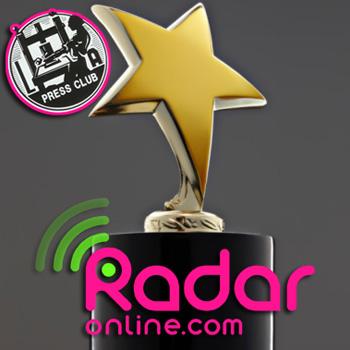 RadarOnline.com won five awards at the National Entertainment Journalism Awards, held Sunday night at the Millennium Biltmore Hotel in Los Angeles.
The ceremony featured legendary star power, as Jane Fonda received the organization's Visionary Award and was introduced by Robert Redford.
RadarOnline.com's unique blend of exclusive breaking news and features has helped bring its award total to 10 in the past two years.
Article continues below advertisement
David Perel and RadarOnline.com's staff won first place in the TV/Video/Film News category for our expose, J.Lo's Reality TV Show Caught On Video Faking Scenes.
The judge's had this to say about our scoop on the hit show South Beach Tow: "An old-fashioned scoop here as J.Lo's South Beach reality show is caught openly faking a fight between a tow truck driver and a motorist. This is said to be the first time a reality show has been so plainly unmasked as scripted, directed, and phony!"
Article continues below advertisement
Highlights of the night included The Newsroom's Jeff Daniels taking center stage to play the guitar and sing a hilarious song he wrote in honor of Fonda titled Abs, Buns & Thighs — and a special shout out to RadarOnline.com from comedian Kathy Griffin when she got on stage!
Other big names who came out to celebrate journalism's finest were Lily Tomlin, Sam Waterston and Melanie Griffith.
RELATED STORIES: