Newspaper Falls for Spoof Naming North Korean Dictator Named 'Sexiest Man Alive'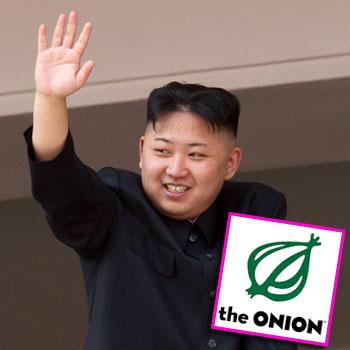 By David Perel - Executive Vice President/Managing Editor Radar
Clearly the meaning got lost in translation.
North Korean dictator Kim Jong Un has a "cute cuddly side" that helps balance his macho tendencies (oppression? ruthlessness?) and that's why he was voted the man of the year by one of America's most prestigious news outlets, The Onion.
The Chinese Communist Party newspaper The People's Daily believed every word of the satirical (and hilarious) report, featuring the "honor" on its Web site Tuesday and adding a 55-page photo gallery tribute to Kim!
Article continues below advertisement
It's yet another instant classic bit of mischief for The Onion, whose humor has fooled a Congressman and an NBA analyst, among many others.
Now the major Chinese news outlet may have set a new standard for being pranked. The photo gallery added to the ridiculous report included the dictator on horseback, waving at a military parade and out with his wife, according to The Huffington Post.
It all began with this deadpan report: "The Onion is proud to announce that North Korean supreme leader Kim Jong Un, 29, has officially been named the newspaper's Sexiest Man Alive for the year 2012."
Kim's charm? A "devastatingly handsome, round face, his boyish charm, and his strong, sturdy frame, this Pyongyang-bred heartthrob is every woman's dream come true," The Onion wrote.
He was also given props for "impeccable fashion sense, chic short hairstyle, and, of course, that famous smile." The Onion added "He's a real hunk with real intensity who also knows how to cut loose and let his hair down."
MORE ON:
hollywood happenings
Article continues below advertisement