Clown Collapses And Dies At Macy's Thanksgiving Day Parade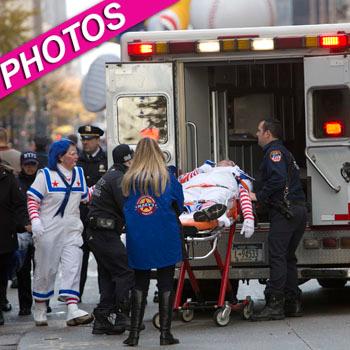 Cheers turned to tears on Thursday after a man dressed as a clown collapsed and died during the Macy's Thanksgiving Day Parade.
The tragedy took place in New York City at Sixth Avenue and West 39th St where Robert Blasetti and his wife Irene were making balloon animals.
The 67-year-old's wife – who was also dressed as a clown – looked over in horror as her husband went into cardiac arrest.
Article continues below advertisement
Witnesses tell the New York Post that Mrs. Blasetti tried to revive her husband by administering CPR. A person wearing a Macy's sweatshirt reportedly took over, as the weeping woman was led to a parade cart.
"All of a sudden he collapsed and fell on his back," witness Tuvia Yamnik tells the newspaper. "It didn't look like he was breathing."
Efforts to revive Blasetti were not successful and he was pronounced dead at Roosevelt Hospital.
Macy's spokesman Orlando Veras says: "We are saddened to report that a marcher in the Macy's Parade suffered a medical emergency." Veras would not say if Blasetti was a Macy's employee or not.
In a separate incident Charles Sutton, 58 – a civilian NYPD worker – also collapsed and died of a fatal heart attack at the parade.
Sutton was hooking his car up to be towed off the festival route at the time.
RELATED STORIES: