Lesbian Brutally Beaten By Girlfriend's Brother Defends Him, Says It Wasn't A Hate Crime Just A 'Bad Night'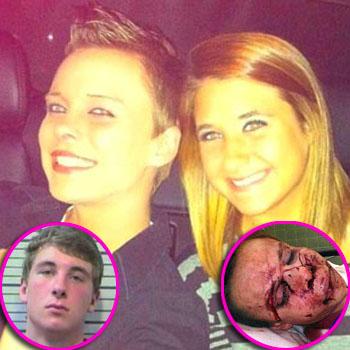 Article continues below advertisement
"I'm okay, I'm good," Mallory told WKRG News 5.
"Just a bad, bad night."
Mallory told the news outlet she doesn't remember much from the night she was beaten, but that it had nothing to do with her sexual orientation.
"A lot of things happened between us, but it doesn't make me hate her brother," she said of Travis.
"I don't hate her family at all, or anybody for that matter."
In fact, Travis' sister is speaking out as well claiming there was a reason behind the attack that will be revealed later.
"It's not a hate crime at all. We both know the reason why this happened, and it doesn't make any excuses for him," Ally said.
"I'm not defending him at all. I know why he was angry, and that will all come out."
Travis, 18, was arrested the night of the attack, charged with second-degree assault and released that same day on bail.
His attorney, James Byrd, says the teenager is in hiding because he's received death threats.
Article continues below advertisement
"People get a story and go with it, and before it's over its an entirely different animal," he said.
"People have taken this and overreacted, and made it something it's not."
However, Mallory's mother, Kristi Taylor, is still trying to persuade District Attorney Ashley Rich to upgrade the charges against Travis to attempted murder.
"He tried to kill her. He's lucky he didn't kill her. She's lucky to be alive. I didn't recognize her when I got to the hospital. It's hard to look at her like that," Kristi said.