Exclusive
Kris Jenner Has Big Plans For Kendall & Kylie's Fashion Line, Determined To Rival Jessica Simpson!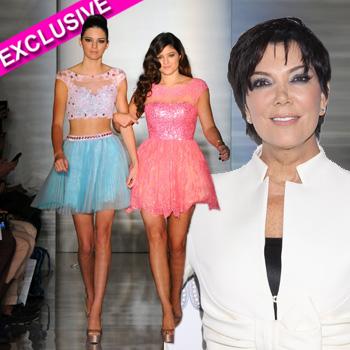 By Jon Boon - Radar Reporter
Kris Jenner is hoping daughters Kendall and Kylie's fashion line will be even bigger and more profitable than Jessica Simpson's, and, as usual, the momager has a plan to ensure success, RadarOnline.com is exclusively reporting.
Kris wants Kendall, 17, and Kylie, 15, to rule the fashion, jewelry and cosmetic industries by the time they've entered their 20s. And she's already trademarked their names!
Article continues below advertisement
"Kris has big plans for Kendall and Kylie," a source told RadarOnline.com "Buoyed on by the success of Kim, Kourtney and Khloe, Kris has guided her youngest daughters to follow their older sisters into the fashion world.
"They will concentrate specifically on the teenage market and rival Jessica Simpson's fashion brand and produce many different things. Kris wants them to own the fashion, jewelry and cosmetic industries and wants Kendall and Kylie to put their names to various products. Kendall and Kyle have both been trademarked, so the ball is already rolling.
"We've had Kourtney, Khloe and Kim and now we'll be hearing a lot more of Kendall and Kylie," the source said.
On Thursday, Kendall took to her Twitter page to announce a 'Kendall & Kylie' line set to launch in February 2013 at PacSun stores and online.
Meanwhile, as RadarOnline.com previously reported, Bruce Jenner is secretly consulting lawyers, insiders tell the National Enquirer, and a split could put the couple's $155 million fortune into play.
Article continues below advertisement