Exclusive
Trouble For Kris Jenner? Hubby Bruce Reportedly Consulting Divorce Lawyer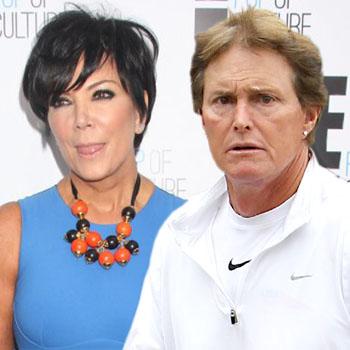 Bruce Jenner is secretly con­sulting lawyers about divorcing wife Kris Jenner, insiders are reportedly saying, and a split could put the couple's $155 mil­lion fortune into play!
After 21 years of marriage, the Olympic legend has reached the breaking point over the reality TV mom-ager's flirting with younger men, and raging egomania over the Kardashian clan's wildly successful business empire, the insiders told the National Enquirer.
Article continues below advertisement
"Bruce feels that Kris treats him like a doormat, and he's had enough," a source said about the reality show star, who is step dad to Kim, Kourtney and Khloe Kardashian.
"She con­stantly belittles his appearance and complains to mutual friends that he's a boring old fart," the source said about the Keeping Up with the Kardashians matriarch.
"Then she has the gall to flaunt her relationships with younger guys in his face!"
Fed up Bruce, 63, has been discussing divorce with golfing buddies at Lake Sherwood Coun­try Club near the family home in Calabasas, Calif., where he's a daily fixture, the Enquirer has learned.
"He hates it when cronies at the Country Club jokingly call him Bruce Kardashian," divulged an insider. "Kris is continually perceived as the moneymaker and the one who wears the pants in the family, and he's sick and tired of the humiliation.
Article continues below advertisement
"One of Bruce's pals who's a sports entertainment lawyer has helped Bruce value the assets of the Kardashian-Jenner em­pire if he moves forward with a split. He's also talked to a divorce attorney buddy about potential custody arrangements for his two girls with Kris."
For more exclusive details about the demise of Bruce and Kris' relationship pick up the latest issue of the National Enquirer on newsstands Thursday.