Kate Moss Was Pressured Into Showing Her Boobs At 16, 'I'd Lock Myself In The Toilet And Cry'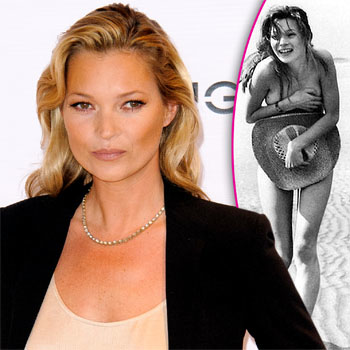 At 16, Kate Moss was the most famous model in the world, and more than 20 years later, the British beauty is finally revealing the horrors of her early experiences in the high fashion industry involving underage nudity.
In the December issue of Vanity Fair, the 38-year-old opens up about the shocking 1990 topless photo shoot for The Face, where she was pressured to show her bare breasts at the age where other teens were just getting their driver's license, and RadarOnline.com has the details.
Article continues below advertisement
Moss, who was unknown at the time, was booked for a feature in the British magazine, and shot by the legendary photographer Corinne Day.
"I see a 16-year-old now, and to ask her to take her clothes off would feel really weird," she reflects on the experience. "But they were like, If you don't do it, then we're not going to book you again. So I'd lock myself in the toilet and cry and then come out and do it."
In the extensive spread in magazine's famous The 3rd Summer of Love issue, Moss can be seen completely bare-chested in one image, and nude in another, with her private parts covered up by her hands and a straw hat.
"I never felt very comfortable about it," she admits. "There's a lot of boobs. I hated my boobs! Because I was flat-chested. And I had a big mole on one. That picture of me running down the beach—I'll never forget doing that, because I made the hairdresser, who was the only man on the shoot, turn his back."
Article continues below advertisement