Baring Her Breasts For Calvin Klein At 17 Led Kate Moss To 'Nervous Breakdown'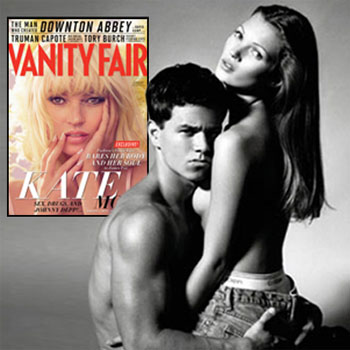 The pressures of being a teenage supermodel drove Kate Moss to insanity, literally.
In a new interview with Vanity Fair, the British beauty reveals that her early fame and having to strip down with Mark Wahlberg for her iconic 1992 Calvin Klein campaign when she was only a teen, made her so uncomfortable that she suffered a nervous breakdown, and RadarOnline.com has the details.
"I had a nervous breakdown when I was 17 or 18, when I had to go and work with Marky Mark and Herb Ritts," Kate reveals in the magazine's December 2012 issue about the famous shoot. "It didn't feel like me at all. I felt really bad about straddling this buff guy. I didn't like it."
Article continues below advertisement
Though she made it through the shoot despite her feelings, she was forced to deal with the emotional aftermath.
"I couldn't get out of bed for two weeks. I thought I was going to die. I went to the doctor, and he said, 'I'll give you some Valium,' and Francesca Sorrenti, thank God, said, 'You're not taking that.' It was just anxiety."
Like many posers, Kate reveals that it isn't easy being thrust into the modeling industry at a young age.
Plus Size Model Slams Designers Who 'Tell Girls To Lose Weight'
Photoshop Faux Pas! Denim Brand Airbrushes Model To Anorexic Extent