Kate Moss On Unearned Reputation: 'I Was Never Anorexic' And 'Had Never Even Taken Heroin'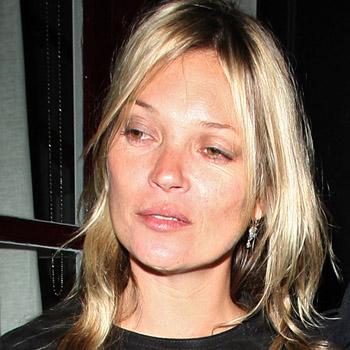 Kate Moss may have been the poster child for the early 90s Grunge era, known around the world for her "heroin chic" look, but the supermodel claims she never even touched the drug!
In a new interview with Vanity Fair, the 38-year-old puts the drug rumors to rest, also maintaining that she never had an eating disorder, and RadarOnline.com has the details.
Moss, who appeared in several famous magazine spreads looking super skinny and strung out, often shot by iconic photographer Corinne Day, explains that the shoots were just styled to make her look like she was on drugs.
Article continues below advertisement
"I had never even taken heroin — it was nothing to do with me at all," she states.
"I think Corinne — she wasn't on heroin but always loved that Lou Reed song, that whole glamorizing the squat, white-and-black and sparse and thin, and girls with dark eyes. She loved that look."
As for her weight, Kate simply explains that she was skinny because she didn't really have time to eat and that wasn't provided for her when she was working.
"I was thin, but that's because I was doing shows, working really hard. At that time, I was staying at a B and B in Milan, and you'd get home from work and there was no food," she said. "You'd get to work in the morning, there was no food. Nobody took you out for lunch when I started."
However, one person did feed Kate Moss – the former First Lady of France.
"Carla Bruni took me out for lunch once. She was really nice. Otherwise, you don't get fed. But I was never anorexic. They knew it wasn't true — otherwise I wouldn't be able to work."
Article continues below advertisement