Justin Bieber Attending American Music Awards Solo, Selena Gomez Not Planning To Go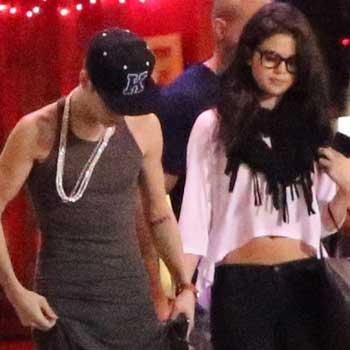 After Friday night's hugely embarrassing fight, Selena Gomez will not be standing by her man at the American Music Awards, a well placed source tells RadarOnline.com.
Justin Bieber has three major nominations, including Artist of the Year, and is also scheduled to perform and be a presenter, and he'd been assuming that, like last year, he and Selena would be the hit of the red carpet.
And Selena had been planning to attend. That was until their break-up last week.
Article continues below advertisement
She then pulled out and there have been reports Bieber would be seated next to the dateless Taylor Swift.
But the Baby singer kept lobbying Selena to change her mind and be on his arm for his big night. In fact, it was one of the reasons he so desperately wanted to reconcile last night.
But as we reported, Justin and Selena's reconciliation dinner out ended up before it began, and after leaving their restaurant, Selena drove home and locked Justin out behind the gates!
He did talk his way in during the night, but our source says he was not able to Selena her into attending the awards ceremony Sunday night.
Justin is not ready to give up though, and is still hoping he can change Selena's mind before the show starts.
Come back to RadarOnine.com on Sunday to find out if he's a success!
We'll be livestreaming the red carpet.
RELATED STORIES:
Ashley Benson Dumped Justin Bieber's BFF For James Franco, Selena Gomez Ticked Off!