Justin Bieber Is A Style Icon! Pop Star Partners With adidas NEO Label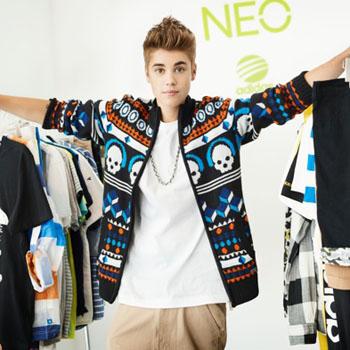 By Leah Ornstein - RadarOnline.com Features Editor
Justin Bieber is breaking into the fashion industry!
The 18-year-old Baby singer has been announced as the new global style icon for adidas NEO Label and to celebrate his exciting partnership, fans can hunt down his exclusively customized NEO gold sneakers online in a big to win a pair on meet Justin on tour – and RadarOnline.com has the details.
"I found a real connection with NEO because it is about fashion, freedom and being true to who you are," Justin explains about the partnership. " With my new album, Believe, I am spreading the message of believing in yourself. The first step is showing who you are, and one of the great ways to showcase yourself is through fashion. For me style is an adventure, something to have fun with and NEO believes this too."
Article continues below advertisement
As part of the 2-year collaboration, Bieber will sport NEO looks, make several appearances for the brand, be featured in their campaigns and he will personally put together his favorite looks from the collection each season for his fans to purchase.
To mark the appointment, adidas NEO Label and Justin launched a competition to find his NEO sneakers online in the Find My Golden Shoes challenge. Pictures of Justin's exclusively customized NEO gold sneakers that he is wearing during his Believe World Tour concerts are hidden online. Daily clues will be posted on NEO's Facebook site leading searchers to find the NEO gold sneaker images hidden in a different site on the Internet each week. By solving the clues and finding the picture, a code will be available for successful sleuths to submit to NEO's Facebook site. If the code is entered correctly, entrants will be in the running to win daily and weekly prizes.
One lucky entrant each week over five weeks will win a pair of the NEO gold sneakers and an all-inclusive trip to meet Justin on tour in Miami. Entrants will also have the chance to win daily prizes of NEO goodies.
For more information about Justin Bieber's exciting new partnership with adidas NEO Label, click here.