Don't Cry, Ma! Jennifer Garner's Mom Sobs Saying Goodbye After Holiday Visit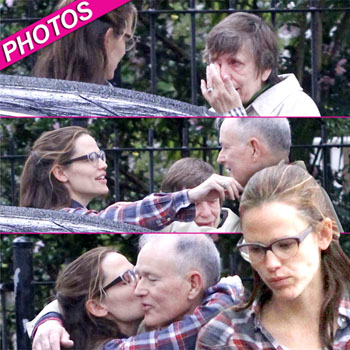 It's not easy saying goodbye!
After spending the Thanksgiving holiday in New Orleans with Jennifer Garner, Ben Affleck and their kids, the actress' mother bid an emotional farewell to her daughter on Monday, shedding tears during their last few moments together, and RadarOnline.com has the photos and details.
Garner, who is currently filming the Dallas Buyer's Club in the Big Easy with Matthew McConaughey, gave her school teacher mother, Patricia, a warm embrace, and attempted to comfort her before she got into the Town Car with Jennifer's father, Bill, and headed to the airport.
Article continues below advertisement