No Seven Year Itch Here! Ben Affleck Gushes Over Jennifer Garner: 'She's Just A Great Woman And A Great Friend'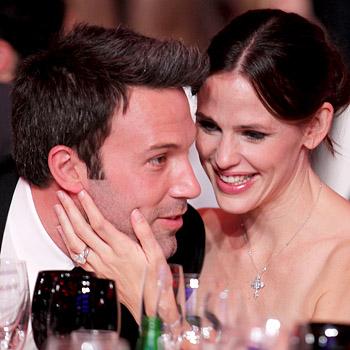 Ben Affleck is his wife's biggest fan!
The Academy Award winner, who has been with Jennifer Garner since 2004, gushes over his wife-of-seven-years and mother of his three children in the December 2012 issue of GQ, and RadarOnline.com has the details.
"It was a really, really good thing that happened to me around the time," he reveals about hooking up with Garner at the lowest point of his career.
Article continues below advertisement
"She's just a great woman and a great friend."
"She has such wise and certain stewardship over these three characters that I love so much," he says about his wife's parenting skills.
And while Garner lays down the law, when it comes to his role as a father, Affleck says he likes to play the good guy, as he tries to spoil his brood in order to appear heroic.
"Oh, believe me, I'm always trying to sweep in and be hero dad, give them things they're not allowed to have, just completely pander to them. 'Have you had dessert yet?' 'You guys want to watch TV?'" He says.
As RadarOnline.com previously reported, back in September Affleck admitted to leaving the lion's share of child raising to Garner while he concentrates on his flourishing directing career.
"I am not very present in the rest of my life. My wife's very patient. She does everything," Affleck told Details magazine, admitting also that most of the time, even with his family, his mind is elsewhere.
"If I have time, I try to spend time with the kids, even if just to be a physical presence, the bath, whatever. But my mind's always going, 'How are we going to light that shot tomorrow?'"
Article continues below advertisement
That said, Affleck says that his creative choices have changed enormously since the dreaded 2003 year where he made several box office and critical flops including the legendarily terrible Gigli.
"Now everything has to compete with being with my family. I don't want to be a stay-at-home dad. Work is very important to me. I like to work. So does my wife. But I need my work to mean something to me in order for me to not be home with them."