Gloria Allred Representing General Petraeus' Whistleblower Twin Sister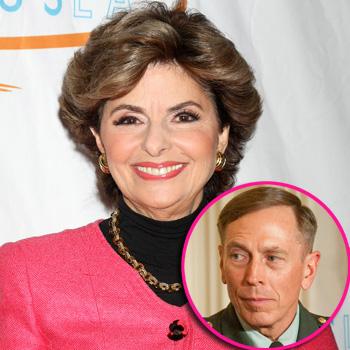 By Jen Heger - Radar Assistant Managing Editor
Famed women's rights attorney Gloria Allred is representing the twin sister of the whistleblower at the center of the CIA General David Petraeus scandal which resulted in his resignation from the agency, RadarOnline.com is reporting.
As we previously reported, while the four-star Army General was director of the CIA, he wrote a letter supporting the child-custody fight of Natalie Khawam, the "psychologically unstable" twin sister of his good friend Jill Kelley.
Article continues below advertisement
According to a statement released by Allred, she and her client will hold a news conference Tuesday in Washington D.C. "to explain the truth about who Natalie Khawam really is, correct misconceptions about her, explain her course of action and comment on Natalie's relationship with General Petraeus and his wife Holly."
Kelley, 37, is the married Tampa socialite who was first alerted the FBI of threatening emails allegedly sent to her by Petraeus' mistress and biographer Paula Broadwell -- a bombshell revelation that led to his resignation as the nation's top spy. (Kelley serves as an unpaid social liaison to MacDill Air Force Base in Tampa, where the military's Central Command and Special Operations Command are located.)
Petraeus' letter to the court, which was written in the past two months, supported a motion to overturn a ruling made nearly a year earlier by a judge who denied custody to Kelley's sister, Natalie Khawam, because of serious reservations about her honesty and mental stability. The letter was filed in DC Superior Court, where the father of Khawam's 4-year-old son filed for divorce in 2009.
Broadwell wrote a biography, All In: The Education of General David Petraeus, and the pair began their affair as he retired from the U.S. Army, where he was an esteemed four-star general, to take over the job of CIA Director last September.
Article continues below advertisement
The affair ended early this summer when Petraeus confronted Broadwell about threatening emails she was sending to Kelley, telling her to stay away from the General.
Meanwhile, Paula's husband, Dr. Scott Broadwell, is apparently standing by his woman.
For the first time since the sex scandal broke on November 9, Broadwell was seen in public with her radiologist husband.
Early Saturday evening, the two drove together to her brother's home in the Washington, DC suburbs, and then walked arm-in-arm from the car to the front gate. The two were also spotted at their North Carolina home on Sunday with their two young sons.