50 Shades Of Cray Cray! Courtney Love Goes On Bizarre Photo Sharing Frenzy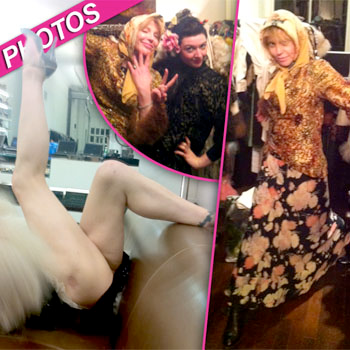 It's never a dull moment when it comes to Courtney Love!
The Hole singer, who is famous for her crazy antics, had an extremely busy 24 hours going on a social media photo sharing bender on her Never The Bride Twitter account, and RadarOnline.com has the photos and details.
Love, who recently started the account for her clothing line, spent an afternoon with her pals trying on eccentric vintage ensembles and making strange faces, before sharing a slew of odd snaps ranging from a model wearing her clothing collection to a photo of her own bruised-looking leg and even a bunch of random images from magazines, which she directed at various celebrities.
Article continues below advertisement
Under a photo of Georgia May Jagger smoking a cigarette she wrote: "words do fail me but really, why do all rockstar children smoke? I think you anbd (sp) bean need to." Bean refers to her daughter, Francis Bean Cobain, whom she has been estranged from for several years, but still maintains in another tweet is the "single most important thing" to her in the world.
In another photo of Ashley Olsen, she inscribed: "@marykateolson (sp) @ashleyolson (sp) whichever one of you ( mary k) i traumatised (sp) back in the day i know i keep mixing it u."