Casey Anthony Smoking Gun? Search For 'Foolproof Suffocation' Found On Computer Days Before Caylee's Death, Claims Report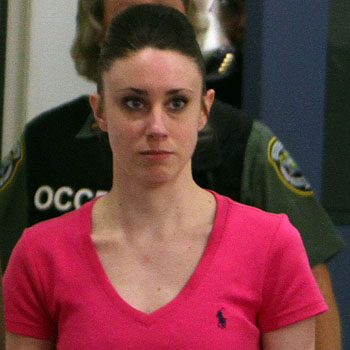 By Debbie Emery - RadarOnline.com Reporter
Damning evidence that was not revealed in court during Casey Anthony's high profile murder trial has been discovered, according to a blockbuster local television report airing Tuesday night.
Prosecutor Linda Drane Burdick confirmed in an email that someone used the Anthony family computer to search for "foolproof suffocation" on June 16, 2008, the day Anthony's father said Casey left the family home with daughter Caylee for the last time, reported the Orlando Sentinel.
Article continues below advertisement
The new revelation is likely to be part of the bombshell report, as well as having been included in criminal defense attorney Jose Baez's book Presumed Guilty, Casey Anthony: The Inside Story, but was not known to prosecutors before or during the trial that captured the attention of the nation, confirmed Burdick.
It comes in light of the highly anticipated report by Orlando station WKMG-TV that promises to reveal "evidence that could have changed the jury's mind -- evidence that points right at Casey," according to news director Steve Hyvonen.
"We've uncovered an astounding failure by investigators that left prosecutors unaware of more than 98 percent of a crucial batch of evidence," star reporter Tony Pipitone told RadarOnline.com.
The then-unknown evidence could have had a groundbreaking impact on the case, as Pipitone reveals in a preview to the report that prosecutors "had less than two percent of Casey Anthony's internet history on the day that Caylee died. Well we have 100 percent, and what we found on that data is a search prosecutors say they would have used to help try to prove their case," he said.
Article continues below advertisement
"It was something Jose Baez was willing to defend but he didn't get the chance because the prosecution never brought it up, we know why now – they didn't even know about it," revealed Pipitone.
"If they had, Baez now says he was prepared to show it was her father, George, not Casey doing the search we're going to reveal."
The full story will air during WKMG-TV's 11 p.m. ET newscast on Tuesday.
As RadarOnline.com has previously reported, Casey was acquitted of charges of first-degree murder, aggravated manslaughter and aggravated child abuse in the 2008 death of two-year-old Caylee, when a Florida jury found her not guilty in July 2011.
Casey Anthony Sued For Three Billion Dollars, Accused Of Causing Emotional And Mental Distress!