Brooke Burke-Charvet Reveals She Has Thyroid Cancer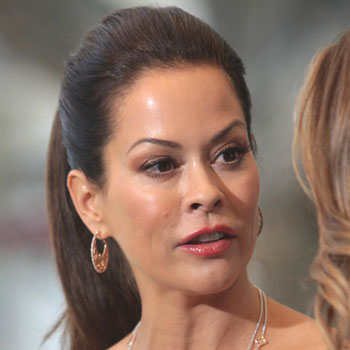 Article continues below advertisement
"I never ever thought I was going to get that phone call with bad news." Brooke, 41, explains that she will be having thyroid surgery and explained that the scar will be "dead center" so she isn't going to be able to avoid any questions.
"I need to have a thyroidectomy. I'm going to have a nice big scar across my neck."
She said that her health isn't failing now, and in fact, said: "I feel really good and actually I've never felt better."
MORE ON:
Dancing With the Stars
Brooke is a mother-of-four, and she said she isn't used to putting her life in the hands of other people.
"I'm so used to being in control and taking care of everybody and my kids and now I find myself in this really out-of-control situation."
She said that the diagnosis isn't a death sentence at all though.
"I'm going to be fine. And I feel really really strong. Doctors say this is a good kind of cancer to have. Good cancer! That sounds so crazy. But my doctor did tell me this is a happily-ever-after ending kind of thing. I'm going fight through this."