Brazilian Model Lambasted For 'Sexy' Photo Shoot In Hurricane Sandy Aftermath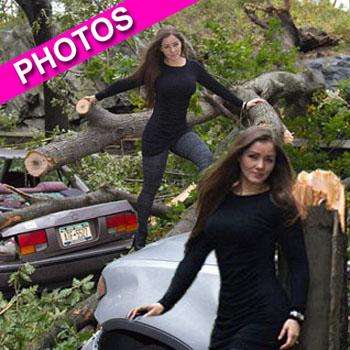 Article continues below advertisement
The controversial and misjudged shots were posted on the disillusioned model's Facebook page and caused a backlash of angry responses from people who have lost their homes and loved ones.
Some found the funny side of her stupidity by creating a rival mocking page called Nana Gouvêa In Disasters, showing her Photoshopped in front of other famous catastrophes such as the Vietnam war, the bombing of Hiroshima, the sinking of the Titanic, and even the death of Mufasa in The Lion King and a shark attack in Jaws!
Dressed in skinny leggings and heeled boots, Gouvêa did the ridiculous shoot with her husband Carlos Keyes and the couple claim it brought them closer together. "We actually spent most of the time in bed," she told Spanish magazine, EGO, of their time during the storm, adding that "today I will open a bottle of wine."
Gawker.com had fun mimicking the model's carefree frolics in their Guide To Posing For Glamour Shots In The Aftermath Of A Devastating Disaster.
Article continues below advertisement
"In the wake of a natural disaster, lots of people will be distraught," read their hilarious commentary.
"What they need now is an image of hope, defiant in the face of tragedy. On September 11th, it was firefighters raising the flag above the rubble of the World Trade Center. Maybe now it's you, striking a fierce diva pose in front of a Budget rental truck.
"The turmoil following a devastating natural disaster is a great opportunity to get out there and try poses, angles, and wardrobe choices you normally wouldn't. This is a time for introspection and re-examining your personal style. Also a great time to stomp all over cars and things. Get out there and Do You."