Exclusive
Big Rich Texas Star Kalyn Bruan: 'I'm Not A Whore!'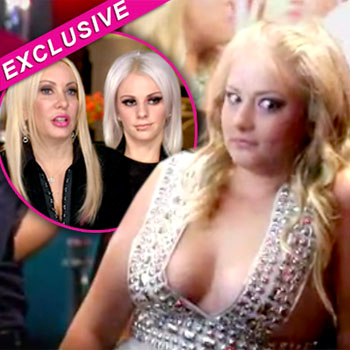 By Alexis Tereszcuk - RadarOnline.com Entertainment Editor
The drama is larger than ever on Big Rich Texas, but Kalyn Braun wants to set the record straight against the nasty accusations her co-stars Bonnie Blossman Myer and her daughter Whitney Whatley are slinging against her about being promiscuous!
"I am not a whore!" Kalyn exclusively tells RadarOnline.com.
She wants to make sure people know that her recent urinary tract infection that she says turned into a kidney infection -- she talked about it on the show -- was not from sex!
Article continues below advertisement
"Basically having Whitney and Bonnie say that I was sick because I was being sleeping around is ridiculous. Is that the pot calling the kettle black or what?"
The 19-year-old reality star says she was "completely shocked" when she heard that the mother-daughter duo said that she got her infection from having multiple partners.
"I wasn't even sexually active at the time!" she exclaimed. "Look, if I was getting any I would be open about it."
Kayln battles frequently with Bonnie and Whitney, but she said this went too far, and "it was hurtful."
She explained what led to her seeking medical care.
"Ever since I was a little kid I've had problems and my body is more prone to getting urinary tract infections and that leads to a kidney infection. Whitney didn't literally give me a kidney infection, but she picks on me and bullies me and it causes me stress."
Article continues below advertisement
Kalyn said it was the stress that caused her medical problems."I was getting so stressed from these two being so mean to me and stress can cause your Ph balance to be off and that causes the UTI and kidney infection, not just sex!" she tells RadarOnline.com.
The reality show star says she doesn't have high hopes for her relationship with Bonnie and Whitney.
"They're never going to change, I'll I can do is clear up the rumors that they started."