Exclusive
Model Quits Big Rich Atlanta After Horrifying Assault: See The Shocking Photos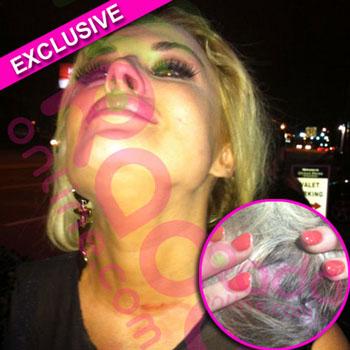 Article continues below advertisement
The drama apparently began on October 2 at the Havana Club in Atlanta where Hawn, 28, was celebrating her birthday. The source says that Rowe -- who's stepfather Q Parker is a member of R&B group 112 -- stuck "her fingers in Ashlee's birthday cake."
One of the partygoers tells RadarOnline.com: "Kahdijiha was sticking her fingers in the birthday cake and was destroying it.
"So Ashlee went up to her and said: 'Why would you do that?' Kahdijiha got irate and started screaming at Ashlee calling her a bitch and a mother***er and saying: 'I'm gonna kick your ass'."
"Ashlee was 2 feet from her and that's when Khadijah lunged, grabbed her ponytail and pulled it all the way down.
"She ripped off the left side of Ashlee's dress, pulled her hair out and dragged her along the ground.
"One of Ashlee's friends had to pry Kahdijiha fingers from her head one by one because she just wouldn't let go.
"That's when she fled the scene. The cameras didn't stop filming the entire time."
Article continues below advertisement
According to the insider, paramedics took Hawn away and a police report was filed but -- more than three weeks later -- Rowe has yet to be arrested, although she has been spotted around Atlanta filming footage for more episodes. Meanwhile, Hawn is so terrified that she has only just emerged from hiding.
Now execs at the Style Network, which will air the Big Rich Texas spin-off in January, are desperate to woo her back and apparently are terrified the model may sue them and Rowe.
"It's not the first time Kahdijiha has cussed at Ashlee and threatened to beat her. She's done that on camera before," the show insider says.
PHOTO: Joanna Krupa Wears No Bra In See-Through Top
"Ashlee didn't even want to invite Khadijah to her birthday party. She sat the producers down the night before and said: 'She's going to end up hurting me very, very badly'.
"They promised her Kahdijiha wouldn't lay a single finger on her but 15 minutes into her birthday party Ashlee was brutally attacked.
Article continues below advertisement
"The producers forced her to interact with Kahdijiha."
Now Hawn is refusing to ever return to the show.
"Ashlee's quit the show and she's never going back," the source says. "She nearly did return. Then the show's producers asked her to sign paperwork waiving her right to sue Kahdijiha.
"But Ashlee refuses to waive her rights to sue someone that assaulted her.
"This has thrown her for a psychological loop. She has to look in the mirror every day and see these bald patches. A woman's hair is everything to her. It's like having your teeth knocked out."