West Memphis Three's Damien Echols Talks 'Life After Death Row'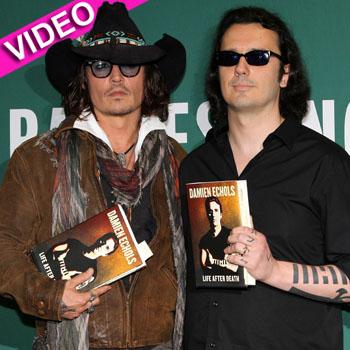 By Debbie Emery - RadarOnline.com Reporter
After being one of the loudest voices in the campaign for their release, Johnny Depp now has a life-long bond with the West Memphis Three "ringleader" Damien Echols, who describes him as his brother, and the unlikely duo are now so entwined that they even have matching tattoos!
"We have some. This one Damien designed. It's one of my all-time favorites, and it means quite a lot to me," revealed the Pirates of the Caribbean star about his extensive ink work, reported Fox News.
Article continues below advertisement
Rather than bonding over a coffee or a beer, the pair usually end up in a tattoo parlor when they get together, revealed Echols and Depp, to "celebrate the moment."
Having man dates with the method actor is a world away from the 18 years that Echols spent on death row serving time for the killing of three 8-year-old boys in Arkansas, along with Jessie Misskelley Jr. and Jason Baldwin.
The trio were released from prison in August 2011 after agreeing to an Alford plea, which allows the men to maintain their innocence while pleading guilty, but Echols is still relentless in his quest for full exoneration.
The 37-year-old says he is no longer angry about losing almost two decades of his life, "If I sat around and dwelled on it, I guess I would be angry, but I'm not for the most part," Echols told FoxNews.com.
"For the first three to four years on death row, it was eating me alive. It was really, really bad. From the instant that my eyes opened in the morning, I was p***ed off. I was never supposed to be there in the first place, they didn't have the right to do this to me."
Article continues below advertisement
Depp's new buddy's inside story is now being revealed both in his 399-page memoir, Life After Death, written largely on death row, and a new documentary on the case, West of Memphis by Lord Of The Rings director Peter Jackson, Amy Berg and filmmaker Fran Walsh.
The biopic wowed critics earlier this year at the Sundance Film Festival and is scheduled for wide release on December 25, with a newly released trailer showing a sneak peek of the case that captivated the nation.
"They were actually part of my legal team," Echols said of Jackson and Walsh. "They were elbow-deep in my case."
The Hobbit director announced last year that he is trying to get Echols a full pardon, and fought to have him receive an exemption so he could leave the U.S. and meet him in New Zealand where they threw caution to the wind and went skydiving together!
"Peter is almost trying to make me make up for 18 years of lost life every time he sees me," Echols said. "We went luge sledding, parachuting ... it was always really fun."
Article continues below advertisement
Jackson even went so far as to pay for part of DNA tests in 2007 taken from the muddy wooded area where the boys were found naked and bound in a drainage ditch that proved it didn't match any of the three men.
As for who did kill the boys, the former suspect believes Terry Hobbs, the stepfather of victim Stevie Branch, should be further investigated in the 1993 triple murder.
"I do know that they never had any physical evidence attaching me or Misskelley and Baldwin," he said. "They actually had physical evidence putting Hobbs at the crime scene and we have several witnesses who have come forward who said relatives told them he did it."
MORE ON:
Celebrity Justice
Life for the budding author who now lives in Salem, Massachusetts, has been hectic as he travels across the country promoting the book with his wife, Lorri Davis, "but for 20 years, I didn't do anything. I didn't go anywhere."
Despite the obvious delight of his newfound freedom, the former murder suspect admits that his release after so long has its own emotional pitfalls including "crushing anxiety and stress.
Article continues below advertisement
"I hadn't walked anywhere without chains on my feet for 15 years," said Echols. "So now I'm constantly tripping down stairs… I'm just trying to find my way from point A to point B."