State Prosecutor And Wife Charged With Horrific Child Abuse, Beat And Starved Their Adopted Children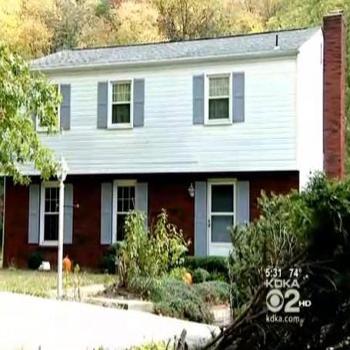 Their well-maintained house on a quiet suburban street gives no hint of the horror that law enforcement officials say went on inside.
A Pennsylvania state prosecutor and his wife have been arrested on charges of severely abusing their adopted children who were found starved, beaten and near death.
Deputy Attorney General Douglas Barbour, 33 and his wife, Kristen, 30, were arrested and face charges of aggravated assault after an investigation began on September 14 when their six-year-old son was admitted to hospital.
Article continues below advertisement
The boy was malnourished and his 18-month-old sister had multiple skull fractures and could go blind from her injuries.
Details of the alleged abuse emerged from court documents following the couple's arraignment on Friday.
The boy - whose name was not released - was taken into urgent care on September 14 suffering from hypothermia and skin lesions which were later determined to have been caused by lengthy exposure to urine.
The little girl was struggling to breath and had multiple head fractures which were in various stages of healing. Her eyes kept rolling back in her head as she was being examined, according to documents submitted during the arraignments.
Dr. Rachel Berger evaluated the children and recommended to police that they have no contact with their adoptive parents, believing they could be injured again or even die if they continued to live with them.
Article continues below advertisement
When questioned, the boy told Allegheny County officials he was often made to eat in the bathroom where he was put if he soiled his pants.
The terrified child weighed 47 lbs. when he came to the U.S. from Ethiopia in March but was just over 37 lbs when he was admitted to the hospital, police said.
His body temperature was only 93.6 degrees at the time, and when told about it, Douglas Barbour made the bizarre remark, "Would that be from being in the bathroom, cold, wet and naked for an hour?" according to court documents.