How Embarrassing! 10 Stars Caught Picking Their Noses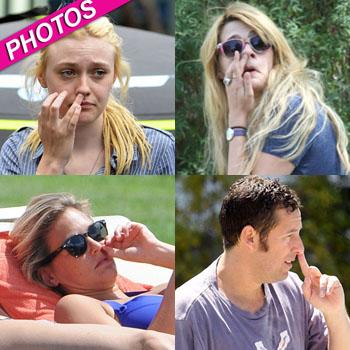 The only thing more embarrassing than a celebrity getting caught with a finger up their nose is having the dreaded moment caught on camera!
From television and movie stars to the most famous singers in the world, several Hollywood stars have gotten snapped picking their noses over the years. RadarOnline.com has photos of 10 stars who have experienced humiliation when their nose picking antics were captured by film.
Article continues below advertisement
Mischa Barton is no stranger to being snapped in inopportune moments. The former OC star has been depicted running down the streets in her skivvies, smoking a mysterious cigarette and also picking a winner out of her nose.
Even so-called Grown Ups like Adam Sandler get caught picking their noses! The Hollywood funny man and father-of-two didn't realize his finger action was getting documented by a nearby photographer one day as he was taking a stroll.
Calvin Klein may be one of the most famous fashion designers of all times, but apparently the legend doesn't realize that picking boogers is out of style.
George Michael and Janet Jackson have all the right moves on the stage, but the legendary musicians both have committed nose-picking faux pas on the streets.
Which other stars have been snapped picking their noses? Find out by clicking here.