RHONJ Lost Footage: Gay Slurs, Fake Apologies & Talk Of Jail Time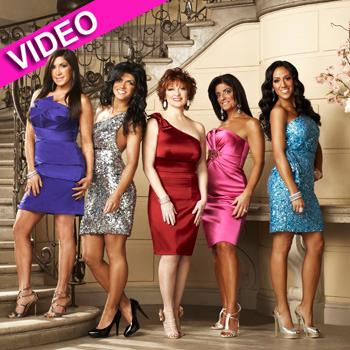 Bravo stretched out The Real Housewives of New Jersey season by having a "Lost Footage" episode on Sunday night, and RadarOnline.com has all the juicy details -- filled with discussions on gay slurs, fake apologies and jail time.
The show begins with host Andy Cohen calling out Joe Giudice on an offensive gay joke he made during the season to which Joe claims it was just the speech he grew up with.
Article continues below advertisement
"Growing up, we always used the word... we call each other, f***ot, homo or whatever, doesn't mean anything. We were friends. We call each other names all the time, it doesn't mean we're gay," Joe said.
"We just would use that word for whatever reason, that just was in our vocabulary... It was just a word that everybody used. Now, I don't use the word anymore because it's not appropriate and people don't want to hear that, so I don't use it."
"Yeah, like the 'c-word' is a term of endearment for your wife," Jacqueline chimed in, bringing up the episode where Joe was caught on camera calling Teresa the derogatory word. "I think it's more ignorance than malicious."
Watch the video on RadarOnline.com
Teresa did an interview earlier this year with a tabloid apologizing for her behavior towards the other housewives, and when Jacqueline Laurita saw it she was particularly hurt because she'd just reached out to Teresa and got no response, instead she had to see it on the cover of a magazine.
Article continues below advertisement
Jacqueline held up printouts of texts she sent Teresa at Christmas to prove that she'd reached out to Teresa that said, "Merry Christmas to you and your family. I'm not saying we have to be friends, I'm just saying to let go of all the hate. I forgive you for what you've done, and I'm sorry for any hurt I've caused. Happy New Year."
On a more lighthearted note, The Real Housewives of New Jersey cast participated in a Tug-O-War for a charity, and Teresa showed up with a bunch of "juice heads" to ensure their victory, but Caroline Manzo found a bunch of Army guys for her cause, and in the end the Giudice/Wakile team finished in 6.09 seconds and the Manzo/Laurita crew killed it with a time of 5.71 seconds.
Not so lighthearted was Father's Day in the Giudice house when Teresa brought up the idea of her husband going to jail for fraud.
"I would be scared if my husband ever went away to jail, so I just want to create good memories," Teresa said.
More lost footage showed blooper scenes of the kids acting out on their parents, and sometimes it was the parents who acted more like overgrown kids!
But capitalizing on her RHONJ fame, Teresa has put out two cookbooks and cameras followed her in unseen footage as she scanned the bookstores of Manhattan to make sure they carried her books.
Article continues below advertisement
At one bookstore, they failed to carry her second cookbook Fabulicious, so Teresa approached the salesman with a copy saying, "That's me on the cover. I think my book would definitely sell in your store! All the recipes are authentic Italian recipes straight from Italy. My parents are off the boat. Definitely I should be in here."
"We usually do by customer demand," the salesman replied, to which Teresa continued to pitch her book ,but the employee didn't budge, and she had no luck getting her book in the store.
Dina Manzo got brought up because of the contention between her sister Caroline and Teresa and it turns out that Caroline and Dina are not on speaking terms right now.
Caroline blames Teresa for running to Dina to talk about her behind her back. "Very hurtful," Caroline said. "Teresa's not the entire component, but she's certainly a component."
"I want you guys to make peace," Teresa said. "I wish you all the best."
Article continues below advertisement
Finally, the girls had a cook-off in their RVs and Teresa was confident she would come out on top, and she was victorious when their friendly neighbors/judges picked her steak dish as their favorite.
As RadarOnline.com first reported, all the ladies of Jersey will be back next season and Bravo is even thinking of adding two new women to the cast, who sources call "Teresa soldiers."
Will you be watching next season?