Marie Osmond Mental Illness Bombshell, Considered Electric Shock Treatment For Severe Depression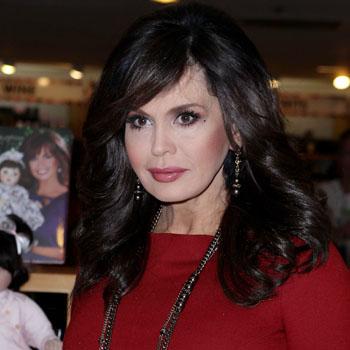 Marie Osmond is opening up about the crippling depression she suffered from following the tragic suicide of her son Michael, confessing that things got so bad at one point that she even considered undergoing electric shock treatment.
"Marie's depression got so bad at one point she feared her career would be over or she would kill herself if she didn't take drastic steps to cure her misery," a source close to the Osmond family told The National Enquirer.
Article continues below advertisement
"So she asked loved ones to check her into a mental hospital for treatment. Not a fancy rehab facility, but an old-time mental ward with padded cells, straitjackets, restraints and electric shock treat­ments.
"Marie didn't know what might happen next in her mind and wanted to be in a hospital that was fully equipped to handle anything."
Electroconvulsive or electroshock therapy is an aggressive treatment for severely depressed or suicidal patients. It often works, at least temporarily, but one potential side effect is memory loss.
"It was only the fear of being unable to remember the lyrics to her songs onstage that made her change her mind about undergoing shock therapy and toughing it out on her own," the source continued.
Now, the TV and Las Vegas singing star is baring her soul in an upcoming tell-all book with hopes that her heart-wrenching story will help other women overcome depression. But that may not sit well with the rest of her famous family, and the source says it's already driven a wedge between her and her Las Vegas performing partner, brother Donny.
Article continues below advertisement
"The book's topic is the mental illness of depression and how it can shatter families, but Marie plans to reveal everything about her life struggles, including a lot of things her family does not want exposed,"
divulged the source.
For more exclusive and shocking details about Marie's bombshell book pick up the latest issue of The National Enquirer on newsstands Thursday.
RELATED STORIES:
EXCLUSIVE INTERVIEW: Andrew Koenig's Suicide Mirrors Movie He Worked On