Donny & Marie's Nephew Nathan Osmond Scores On The Country Charts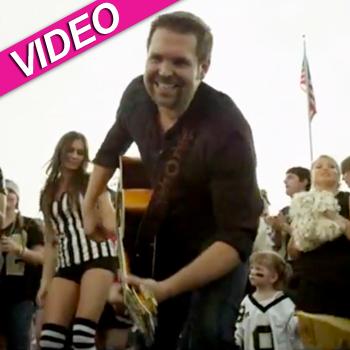 Donny and Marie Osmond's nephew has hit a high note - quite literally - after topping the independent country music charts with his latest hit, and RadarOnline.com has spoken exclusively to him about his music and his famous family.
The musician has beaten his famous aunt and uncle who are only at number 35 on the very same chart!
But Nathan insists it's all friendly competition and the brother/sister team are backing him all the way.
Article continues below advertisement
"We are a massively competitive family," he tells RadarOnline.com. "But that doesn't mean they don't want the best for me. They are my advisors and they have helped me achieve what I have today."
However Nathan admits that when he decided he wanted to break into the country music scene, he didn't tell any of his family for fear they would try to deter him.
"I headed off to Nashville and decided I wanted to give it a go," said Nathan - whose video to the hit 'The Tailgate Song' has had over 70,000 hits online. "But I didn't tell anyone what I was doing because they are all very protective and would probably have tried to tell me not to for fear of rejection."
Watch the video on RadarOnline.com
But Nathan - whose dad, Alan, was a member of the Osmonds group - chose to live out his dream and it's been a complete success.
"I'm absolutely thrilled beyond belief," he said. "I literally couldn't be happier. The fact that I can continue to hold the torch for the family is a blessing and I'm having an amazing time."