Angelina Jolie Snags Roles For Two More Of Her Kids In Maleficent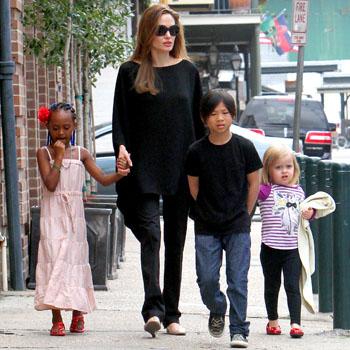 Pax and Zahara Jolie-Pitt have joined sister Vivienne as cast members in mother Angelina Jolie's upcoming Disney film Maleficent.
The kids decided they wanted in after sister Vivienne was cast as the young Princess Aurora (played by Elle Fanning in the movie).
"They have smaller parts," an insider told US magazine, noting that the children will not have any dialogue in the Sleeping Beauty adaptation.
Article continues below advertisement
"Shiloh was supposed to be in it, too, but she was bored and not in the mood during the day her part was supposed to happen, so she ended up not being in the film," the insider said.
As we previously reported, Angelina plays a villainous vixen in the movie. The famous leg flasher is doing her own stunts in the film (as she did in her breakout hit, Tomb Raider).
Maleficent, also starring Juno Temple, Sam Riley, Miranda Richardson, and Brenton Thwaites, hits theaters in March 2014.
RELATED STORIES:
Brad Pitt Chanel Ad Gets Hilarious SNL Parody
Former Pothead Brad Pitt Slams 'War On Drugs'
The Family Is First Mon! Brad Pitt Transforms Into A Rastafarian And Talks Priorities
Jennifer Garner Jokes She's A Bad Mom; Asking Brangelina For Parenting Tips!