Exclusive
Lindsay Lohan 'Needs Help' Says Dad Michael: 'I'm Not Going To Watch Her Die'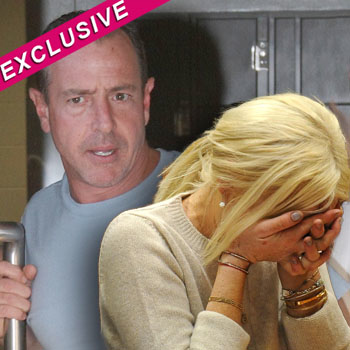 Michael Lohan showed up unexpectedly to Lindsay's Beverly Hills home on Friday in an attempt to stage an intervention with the embattled actress, and he exclusively tells RadarOnline.com she needs help and he refuses to watch his daughter die.
"Lindsay needs help. She's around all the wrong people," Michael said.
"I'm not going to stand for this anymore. She has to get better. I'm not going to watch my daughter die."
Article continues below advertisement
According to Michael, Lindsay has been dating a personal trainer in Los Angeles named Josh Chunn, and he was in full compliance with Michael's attempt to get his daughter help.
"A lot of people tried to stage the intervention with me. She is dating a guy named Josh Chunn and he told me, 'I feel the same way you do. I can't take it. They're destroying her life,'" Michael told RadarOnline.com.
"Lindsay called the cops for trespassing but they opened the gates for us to come up… When we were leaving she threw Josh out and we picked him up in the car and he spilled the beans about everything she is doing."
Michael says Lindsay's entire camp is fed up with her downward spiral and everybody knows she needs help.
"Her whole team has had it with her. All of them want to her to get treatment," Michael said.
"I will keep putting pressure on her like I did before until she gets help. She is not going to get better without help and she needs treatment and help now."
As RadarOnline.com previously reported, police showed up at Lindsay's home on Friday afternoon after a trespassing call was made on Michael while he tried to stage an intervention.