Exclusive
Lindsay's Camp Fires Back At Michael Lohan: All He Wants Is Publicity For Himself!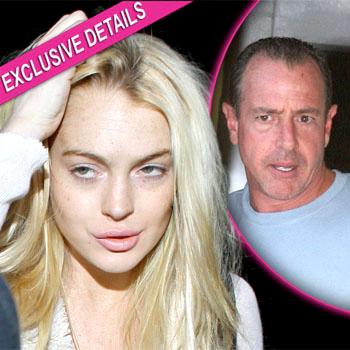 By Jen Heger - RadarOnline.com Assistant Managing Editor
UPDATE: Michael Lohan has responded to Lindsay's Rep's comments:
I just got called by the NY Daily News and as your texts indicate, you are a pathetic liar! I misjudged you and I will rip you a new butthole in the press you butthole! I am going to paint you as a coward who said he cares, knew all of her problems and even told me things about her and the people around her, including Dina but now because you care about your job and money more!!! Coward!
Article continues below advertisement
***
Lindsay Lohan's camp is firing back at reports that Michael Lohan is aligned with her legal and management team in an effort to get the embattled starlet to go to rehab, RadarOnline.com is exclusively reporting.
"It's apparent Michael continues to be very focused on getting publicity for himself. Lindsay's team is in no way aligned with him or his actions," Lohan's rep, Steve Honig, tells RadarOnline.com.
As we previously reported, several of Lindsay's friends have confirmed that the Liz & Dick star is partying and out of control as her father Michael attempts to put the star under a conservatorship.
"People who party with Lindsay have confirmed her excessive partying and getting wasted," one source in Los Angeles told RadarOnline.com. "They act one way to her face, but have been telling different stories behind her back.
Article continues below advertisement
Meanwhile, the family war between Lindsay's parents continues to rage with Lindsay and their other children caught in the middle.
The war between Michael and Dina has been ongoing, but a source in Los Angeles confirms to RadarOnline.com that Michael does not want control of Lindsay's money.
Counters another source, "Michael may have the best intentions towards his daughter, but it's going to be virtually impossible for any judge to sign off on a conservatorship because Lindsay doesn't meet the criteria for it at this point. Lindsay is able to take care of herself, and doesn't appear to be suffering from any serious mental health issues. Even if Lindsay is doing drugs and drinking, as her father contends, that isn't enough for a conservatorship. It would be much better if Michael took actions out of the glare of the media to stop the constant chaos."