Exclusive
Lindsay Lohan Advised Not To Get Restraining Order Against Dad Michael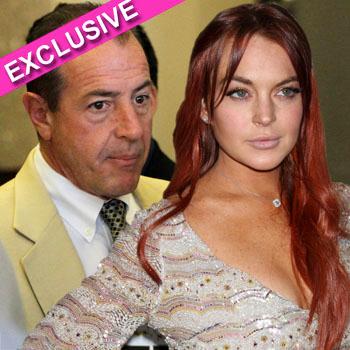 By Jen Heger - RadarOnline.com Assistant Managing Editor
Lindsay Lohan is being advised to not get a restraining order against her father Michael Lohan because it will only create more of a circus in the life of the embattled actress, RadarOnline.com is exclusively reproting.
"Lindsay is being told by her lawyers that it's a disastrous idea for her to try and get a restraining order against her father, Michael Lohan. First of all, there is no guarantee that a judge would grant a restraining order against Michael. Michael did show up at her house and try and stage an intervention, because he believes that she is in immediate danger because of her alleged drug and alcohol addiction. That is hardly a form of harassment," a source close to the situation tells us.
Article continues below advertisement
"Secondly, if Lindsay were to petition for a restraining order, this story will just keep going, making it a never ending media cycle of stories about the Lohan family drama. For an actress trying to get her career back on track, this is not going to help her get future work and makes producers very leary to hire her. There would likely have to be a full hearing for Lindsay's quest to get a restraining order, and Michael would have the opportunity to take the stand and testify. He could reveal more information about his concerns about Lindsay that could further damage her," the insider added.
As RadarOnline.com previously reported, several of Lindsay's friends have confirmed that the Liz & Dick star is partying and out of control as her father attempts to put the star under a conservatorship.
"People who party with Lindsay have confirmed her excessive partying and getting wasted," one source in Los Angeles told RadarOnline.com. "They act one way to her face, but have been telling different stories behind her back."
Article continues below advertisement
Another source says: "Michael may have the best intentions towards his daughter, but it's going to be virtually impossible for any judge to sign off on a conservatorship because Lindsay doesn't meet the criteria for it at this point. Lindsay is able to take care of herself and doesn't appear to be suffering from any serious mental health issues. Even if Lindsay is doing drugs and drinking, as her father contends, that isn't enough for a conservatorship. It would be much better if Michael took actions out of the glare of the media to stop the constant chaos."
However, despite the legal advice Lindsay is getting, the insider says: "She is hell bent on getting a restraining order against Michael because her mother Dina is totally pushing for it. Lindsay is currently in New York City, and she could very likely decide to try and get a restraining order against Michael there."
RELATED STORIES:
Michael Lohan Says Dina Is 'In Denial' Of Lindsay's Issues, And Her Own!