Lance Bass On Hiding He Was Gay: 'I Was Completely Asexual' During 'N Sync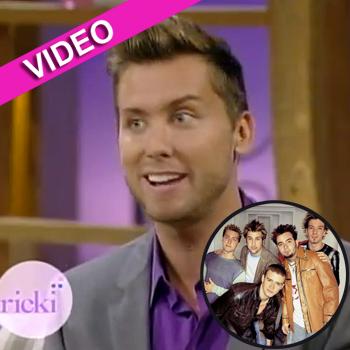 In an incisive interview with Ricki Lake Tuesday, 'N Sync singer Lance Bass opens up about his struggles with his sexuality, and how he's happier and spiritually-fulfilled with the path he's taken, regardless of the impact it's had on his career.
Lance, who came out in July 2006, said "coming out has completely changed my life" and "what I wanted to do," for better and for worse.
He said being able to lend his celebrity to the right causes trumps any possible career opportunities as a heartthrob to be marketed to the tween set.
Article continues below advertisement
"I would rather be in a position where I could help other people than be the biggest superstar in the world and pretend to be straight."
Lance, who was Justin Timberlake's bandmate in 'N Sync, said he kept his sexuality a "deep dark secret" for years out of fears it would would "completely ruin" the boy band's lucrative run.
"I didn't tell a single person when I was with 'N Sync , I didn't tell a friend a family member nothing like that," he said. "As long as I was with 'N Sync, I didn't date a guy, I was completely asexual."
Lance said masquerading as a heterosexual -- and hearing people's jokes and misconceptions directed at the gay community -- ate away at him for years. He said that he "knew from 4 years old" that he was gay, evidenced by a crush he felt for a little boy while still in Kindergarten.
The 33-year-old Laurel, Mississippi native said his Bible Belt upbringing complicated matters during his childhood.
"I grew up very religious -- and I'm still am religious -- I still am a Christian … but there's a lot of conflicting messages, and it's just confusion."