Lance Bass' New PETA Ad To End Pet Homelessness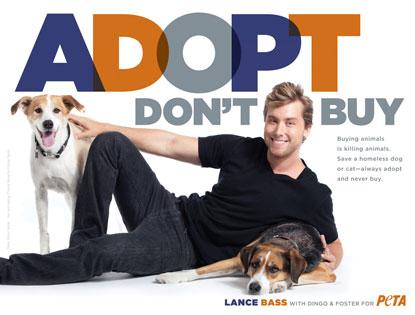 Lance Bass walks the walk and talks the talk.
The singer and actor has shot a new campaign with his rescued mixed-breed dogs Dingo and Foster in a bid to get people to rescue from shelters rather than going through puppy mills or breeders.
"The most loyal, loving pets definitely come from the pound, because I think they know where they come from," he says. "I think they started … with a rough life, being sent out, not being loved and wanted, and I think they really know that and it stays with them the rest of their life."
Article continues below advertisement
The ad is part of PETA's new "Adopt, Don't Buy" campaign. Click here to see more of it and to enter for a chance to win 6 months worth of canned dog foods, treats and supplements.
Every year, approximately 8 million unwanted dogs and cats enter animal shelters in the US and half of them must be euthanized due to space issues.
Over the years, Bass has adopted eight rescue dogs.
"You know when I was a kid watching Price Is Right, I would always hear … Bob Barker say, 'Help control the pet population: Get your dogs spayed or neutered,'" Bass explains. "People are not spaying and neutering like they should be, and there's just so many dogs that really need a loving home."