Exclusive
Clooney: Humanitarian, Oscar Winner, Agent, Wingman? George Makes A Fan's Dream Come True!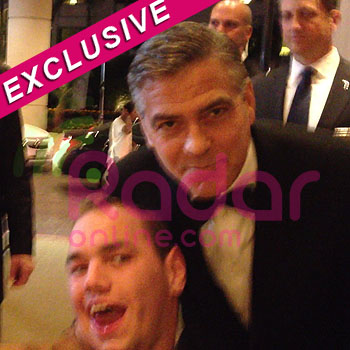 Is George Clooney planning to add agent to his ever expanding resume?
The big-hearted superstar got friendly with 25 year-old Cody La Scala at the 26th Anniversary Carousel Of Hope Ball in Beverly Hills, Calif. on Saturday night. Wheel chair bound from a crippling bout with cerebral palsy, La Scala is an aspiring actor and confessed to Clooney that he is a big fan.
"George was so touched. It was so cute. He hugged Cody and introduced him to Stacy Keibler," an eyewitness tells RadarOnline.com. "They chatted for a bit and George encouraged him to follow his dream, took down his number and promised to make some calls!"
Article continues below advertisement
George was recognized for his efforts in advocating various humanitarian causes by being honored with the Brass Ring Award and when he bumped into Cody later, he handed him the trophy and said, "Here, hold this!"
When Cody told George that he thought Carmen Electra was "hot," George flagged down the buxom babe and made an intro. Carmen planted a sexy smooch right on Cody's cheek!
Just when we thought we couldn't love George any more!