George Clooney And Channing Tatum Take Their Ladies On Romantic Boat Ride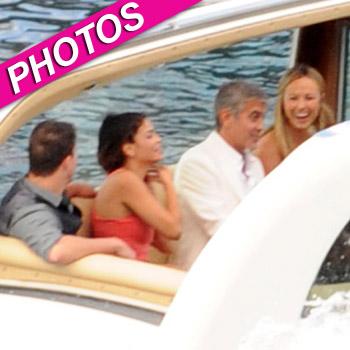 It was a battle of the hunks when George Clooney and Channing Tatum went sailing on Lake Como in Italy on Sunday.
Gorgeous George and the Magic Mike actor seemed to be having fun while Clooney's girlfriend Stacy Keibler and Channing's wife, actress Jenna Dewan-Tatum, were all smiles.
The Descendants star's parents Nick Clooney and Nina Warren were also along for the jaunt.
Fifty-one-year-old George owns a villa in Lake Como, where he often plays host to celebrity guests that have included everyone from Brad Pitt and Angelina Jolie to Regis and Joy Philbin.
Article continues below advertisement
As RadarOnline.com previously reported, George's Dancing with the Stars contestant girlfriend flew in last week to join him at his romantic getaway.
Meanwhile Channing is celebrating the success of Magic Mike, the cheeky blockbuster based on his days as a male stripper.
The 32-year-old confirmed a sequel to the film is in the works. The actor told the UK edition of Glamour magazine: "Yes, yes and yes!"