Exclusive
Carmen Electra Split From Rob Patterson Because Of His On-Off-On Partying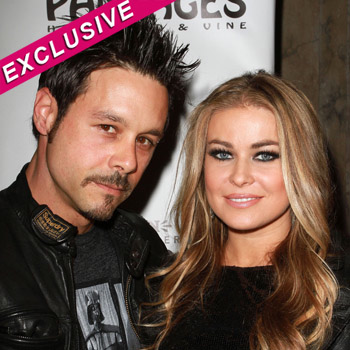 Article continues below advertisement
"Carmen broke free of Rob's clutches, she was fed up with his lifestyle, he's all over the place," a source told RadarOnline.com.
"After going through hell and back with her marriage to Dennis Rodman, Carmen was really attracted to Rob's commitment to being sober when they first met, but he struggled with that, and she found it difficult to deal with life on an emotional roller coaster.
"At first, Carmen was head over heels for Rob and they soon got engaged after a whirlwind romance. But after four years, no actual wedding and a lot of heavy partying, Carmen took a long, hard look in the mirror and realized this just wasn't the life she wanted to lead.
"Carmen is ready to settle down and was particularly irked that no plans were being made during the long engagement. Rob was more interested in where the next party was and she recently came to the conclusion their relationship wasn't going to work.
"She now wants to concentrate on her acting career and move on from what she's now calling the 'lost years,'" the source revealed.
As RadarOnline.com previously reported, Carmen, who was spotted out last week with X Factor head honcho Simon Cowell, recently broke off her engagement with Rob.
Article continues below advertisement
Carmen, who got engaged to the musician in April 2008, was rumored to have split with him in May 2012, but the couple shot down the reports
"They have been trying to work things out for a while, but it just wasn't possible," a source close to Electra, who revealed that the couple parted ways within the last month, told RadarOnline.com exclusively.
"Rob recently moved out of Carmen's house and is staying with friends."