Surprising Elimination On Dancing With The Stars: All-Stars!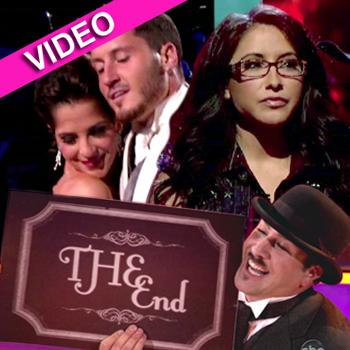 In a surprising move, former 'N Sync singer Joey Fatone was voted off Dancing with the Stars: All-Stars Tuesday night despite a 22.5-point dance Monday that ranked higher than three other couples still in the competition.
"I'll miss everybody out here," Fatone, 35, said following his ouster. "Everybody was great. I had a great time. I'm actually going to a wedding tomorrow so I don't give a damn! I'm going to have a good time.
Article continues below advertisement
"As long as I had fun, I don't care what your votes say, but I appreciate it," said Fatone, who finished second on the program in 2007.
His pro partner Kym Johnson said, "I'm sad … I'm not going to lie."
It's interesting to note that Bristol Palin actually got the lowest score on Monday's DWTS, scoring a mere 18 points, yet she was not in the bottom three Tuesday.
In a post-elimination interview with Jimmy Kimmel, the late night host asked the former boy bander if he regretted recording the song Bye Bye Bye at this point.
"They should have played that! You're gonna go out, you gotta go out big," the Brooklyn native joked.
As we previously reported, Dancing with the Stars: All-Stars, the show's 15th season overall, is the first to bring back former competitors. All are judged with more scrutiny, having been on the show before.
Watch the video on RadarOnline.com
Dancing with the Stars: All Stars continues next Monday on ABC at 8/7c.