Teacher Caught On Camera Beating Kindergarten Math Students, Accused Of Hitting One Girl 70 Times!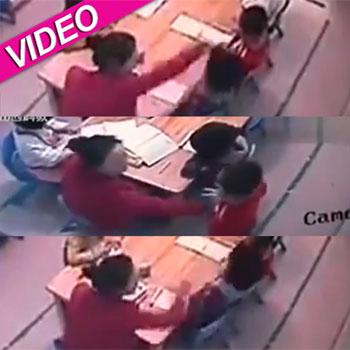 Shocking video has emerged of a teacher beating her Kindergarten math students, along with accusations that she hit one young girl 70 times!
The teacher, identified as Li Zhuging, was employed at Sky Montessori Kindergarten in China's northern Shanx Province, and is currently under a 15-day administrative detention while an investigation is carried out.
Officials were first alerted to the situation by the girl's father who said his daughter came home with swollen eyes and bruises, reports the Huffington Post.
Article continues below advertisement
"I picked up my kid at 5:10 p.m. and when we got home I noticed that her eyes were swollen with two welts, it was swollen here pointing to one cheek and bruised black and green here," the father told school officials.
"Between 4 and 4:30, my daughter was hit 70 times, slapped about 70 times on the face, and kicked in the butt twice. That's for my child. Another was hit 40-some times, 43 times. Another one was hit 10 times, and another 27 times."
In the video, released by LiveLeak, the teacher is seen beating the children multiple times — they were allegedly being punished for being slow at arithmetic.
"The teacher did it because she couldn't answer correctly ten plus one," the whistle blowing father said.
"But she could do single digit addition. Because of this, she couldn't get it right the first time, so the teacher taught her. But then my daughter said, 'Ms. Liu, I still don't know.' She still didn't know so the teacher picked up a booklet and went at her face."