The Naked Truth! The Best, Worst & Most Shocking Celebrity Nude Scenes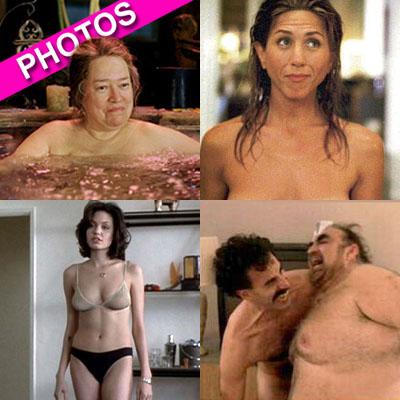 Just because a star strips down, it doesn't mean the nude scene is sexy!
From 1980s' classics to modern day indie films, several Hollywood stars haven't been bashful about taking all their clothes off and revealing their completely naked bodies for the sake of their art, but not all of them have steamed up the screen. RadarOnline.com has photos of the best, worst and most shocking celebrity nude scenes of all times.
Article continues below advertisement
Jennifer Aniston has been hailed for having one of the hottest bodies in Hollywood since she sky-rocketed to international fame on Friends, but it wasn't until 2006's The Break-Up that she revealed her incredibly pert posterior.
Sharon Stone put herself on the map, upping the shock value when she revealed her lower lady parts in the incredibly racy and infamous Basic Instinct scene.
Angelina Jolie bared her bod in a racy lesbian sex scene in Gia, while Sacha Baron Cohen shocked in the other direction during his nude scene in Borat.
When it comes to 1980s' nudity, Phoebe Cates definitely went down in hottie history when she got naked poolside in Fast Times at Ridgemont High.
Which other stars have stripped down in the best, worst and most shocking nude scenes? Find out by clicking here.