Get Jen's Hot Body! Aniston Reveals Her Diet & Workout Secrets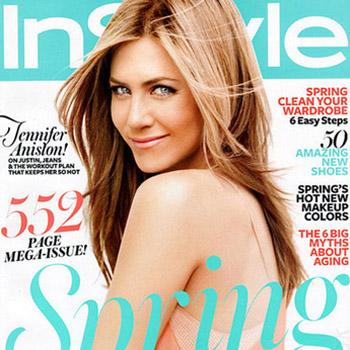 By Leah Ornstein - RadarOnline.com Style & Beauty Editor
Jennifer Aniston, who was named the Sexiest Woman Alive in 2011, reveals all of her fitness and diet secrets in the March 2012 issue of InStyle Magazine, and RadarOnline.com has all the details.
"I work out almost every day, at least five or six days a week," she admits. "I do 40 minutes of cardio: spinning, running, the elliptical, or a combination of all three. Then I do Pilates one day a week, and I do yoga in addition to that, three days a week. I try to mix it up."
Article continues below advertisement
When she's on the road, Jen, 42, doesn't arrive at her hotel unarmed!
"I take 8 pound weights with me whenever I'm staying in a hotel. It's always good to do arm exercises when you're watching television or talking on the phone. I also love to stretch before I go to bed, and usually throw in a couple of sit-ups."
In addition to her rigorous workout schedule, the actress eats healthy -- the majority of time!
"Most of the time I eat things like salmon or other fish, quinoa, lentils, and green vegetables. You're told to avoid fried food, but I don't always," she shares. "I had Mexican the other night and ate everything you can imagine! I also take Omega Cure liquid fish oil and resveratrol, which is supposed to be good for your heart."
As RadarOnline.com previously reported, in the interview, Jen also denies that there is a feud between herself and Angelina Jolie.